1.0 Welcome to Vietnam:
Welcome to one of the most beautiful, diverse and unique countries on the planet. If you're looking for adventure, a good party, or just a nice tropical beach, Vietnam is a great place to start. English teachers are highly respected here, and live a very comfortable life. What's more, they experience sides to Vietnam a backpacker would never see. To live and work in Asia is an experience like no other.
In Vietnam you can visit ancient temples, trek in mountains and jungles and laze on stunning beaches. Or just drink local beer on a street corner, and watch thousands of motorbikes zoom by. Whatever you do in Vietnam never ceases to entertain. The country's cities are a truly Asian experience, with as many western comforts as you could possibly desire.
This is your chance to live in a country in the midst of enormous change. Spend a year here and you will see Vietnam transform before your eyes. Tourism, commerce and population growth are adding more to the chaos every day, for better or worse. It is truly amazing to experience a culture which could soon be changed forever. This is the view from my terrace in Hanoi:
Vietnam is not generally a place to come to for a quiet life, although those with money find their hideaways. For most of us the noise and chaos is part or the reason for being here. Sure, I get woken up now and then by a pneumatic drill at 2am. And I've had my fair share of food poisoning and traffic incidents. But that's part of the joy and energy of Asia – It's dirty, noisy and crowded, and we love it!
1.1 Geography:
Vietnam shares borders with China to the north, and Laos and Cambodia to the west. Public transport is easy to all surrounding countries, and Bangkok in Thailand is just a 90 minute flight away.
80% of Vietnam is covered by mountains and hills making it a beautiful place to live.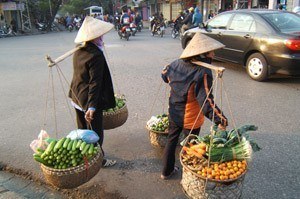 2.0 Teaching Jobs in Vietnam:
If you are an educated native English speaker, you shouldn't have trouble finding work in a private school in Vietnam. There are many jobs teaching children and adults and, depending on the time of year, you should have a good choice of employers. The range of working conditions is very wide, however, with some smaller schools sacrificing quality in the pursuit of profit. It pays to do your research and
consider getting qualified. Respected schools require a degree (in any subject) and a good TEFL certificate, usually a CELTA or Trinity TESOL. These courses can be completed within a month and give plenty of teaching practice from the start. You can take these qualifications in your home country, or if you have time you can wait until you arrive in Vietnam. Some schools here offer great CELTA courses, which are much cheaper than those at home.
Below is a link to one such option: CELTA Training in Vietnam
Pay and working conditions will generally rise dramatically once you have the relevant qualifications and a degree certificate.
2.1 What's teaching like in Vietnam?
While many new teachers come to Vietnam to start their career, lots of experienced teachers are drawn to the country too. It's a great place to live, with good wages and reputably hardworking and attentive students.
Many English learners here need to achieve high marks in exams to allow them to progress to university, or onto better jobs. Big incentives mean studious pupils, although they can be painfully shy at times. Anyone who's taught in European or Hispanic countries may be shocked by some Asian students' quietness – but rest assured, once a class is comfortable in your presence, they open up dramatically.
60% of Vietnam's population is under 30 years old. The market for teaching young learners and teens is growing rapidly, and many classes are popping up to accommodate young adults who need an English certificate to get into university. The main focus for adults is on General English classes, although IELTS and more intensive training courses are becoming increasingly popular.
Working in Vietnam requires a degree of flexibility. You may love adults and hate kids, or vice versa, but chances are you'll have to face your demons at some point here.
Children and teenagers are by far the biggest market in Vietnam, and job sites are always full of adverts for children's teachers. Many teachers here have classes of both adults and children.
If you've never taught kids before, this is a great place to start. They are (generally) well behaved and they learn very fast, making them a rewarding group to teach. In Vietnam teenagers are just as surly and moody as anywhere else, but also great fun when you get them on your side.
Remember that many children and teens are under enormous pressure to succeed in Vietnam, and are worked extremely hard by their parents. Bear this in mind if anyone starts to drift off during your present perfect lesson!
I recommend teaching a good mix of age-groups, although adult-only teaching jobs are available.
2.3 Arrival time and preparation:
Most schools expect you to arrive at least half an hour before lessons are due to begin. This allows for last minute preparations and confirms to the school that you will actually be teaching that day (there are some pretty flaky teachers around.)If you haven't already prepared for your classes, it is a good idea to come a few hours before you are due to begin. There is nothing worse than being unprepared.
Larger private schools will provide you with a core textbook for the course, although for smaller schools this is not always the case. Be prepared with ideas and resources of your own, in case your new employer puts you on the spot.
School resources vary dramatically, from nothing at all to full libraries of ESL books. Ask early on to make sure you have something to work with. Check too if your school has subscription access to any online resources – websites like www.onestopenglish.com can be extremely helpful when you're looking for that perfect worksheet.
Always bear in mind that in General English classes the emphasis is often on speaking. Students, particularly those at higher levels, are regularly well rehearsed in grammar and the structures of the language. Always try to find exercises which will encourage students to talk to each other, no matter how embarrassed they may get! The reason they are learning with you, not a Vietnamese teacher, is usually to develop fluency.
Many schools require you to work at least one day at the weekend, particularly if you are teaching children as part of your contract. Some full-time contracts require a 6-day working week, although the hours you are expected to work are rarely too strenuous. If you cherish your Saturday and Sunday lie-ins, look out for jobs in universities or public schools. Some adult language schools also operate full-time courses from Monday to Friday.
This is Asia, so a certain level of formality is required in class. Some language schools require a very formal dress code (shirt, tie, etc) while in others smart-casual clothes are acceptable. Always dress cautiously for new jobs here – you can dress down later if appropriate.
Clothes in Vietnam can be very difficult to get in western sizes – particularly things like large shoes. There are many tailors around to make relatively cheap clothes to order, but it may pay to come prepared with some working (and casual) clothes. This will help you to avoid rushing around after you arrive.
The academic year kicks off in September in Vietnam, and this is when many jobs become available. Summer schools are also a great way to get your foot in the door. They often run from June to August and pay well. However, vacancies pop up year-round in private schools so finding work is do-able most of the time. The only time to really avoid is Tet, or Vietnamese New Year. This falls around January/February each year and brings Vietnam to a standstill. It is very difficult to find work around this time.
In the past, many teachers came to Vietnam on tourist visas and simply topped them up every 3 months or so by doing 'border runs' into Laos or Cambodia. These earned them an extra stamp in their passport allowing them to stay for more time. Working without a working visa, while technically illegal, remains relatively common here. However, the Vietnamese Government is in the process or cracking down on illegal workers, by making it much more difficult to extend tourist visas. This is another incentive to get work with a reputable school. Many of these will sponsor you to get a working visa (and pay some or all of the costs). It is worth pursuing this to avoid hassles in the future.
Teacher's wages depend highly on experience and the institution they are working for. Pay generally spans from 16-25 US dollars per teaching hour. Wages average around the $20 mark, which is more than enough to live comfortably on if you are teaching 15-20 hours a week (remember that preparation time, marking, reports etc. will be unpaid). Many teachers here take on private work for some extra income. The hourly rate for private tutoring is usually around $20-$25, to be negotiated with the student or parents.
Pay here is relatively high and it is possible to save a nice sum of money if you are willing to put in the work. However, it is worth mentioning that new teachers should expect to spend a good amount of time planning for lessons. This gets quicker once you have some experience under your belt, but it's always important to take the time to plan. Remember, your students are paying a lot of money for your services.
If you do get a working visa, income tax will automatically be deducted from your pay check every month. Tax here works on a sliding scale – the more you earn, the more you pay.
On average you'll pay around 15% tax a month if you teach in Vietnam. There is a way to reclaim some of this before leaving the country, although many schools are not too willing to co-operate.
These vary greatly depending on the school and the type of class. In private schools, classes can have as few as 6 or 7 pupils, but often it's more like 18-25. I have met teachers who teach classes of over 60 kids every day (apparently it's a bit like conducting an orchestra) so make sure you ask your school in advance, to avoid nasty surprises.
Be aware that in larger classes, quieter students can often hide away in the corner. It is important to do all you can to get these students out of their shells – they are often the ones with loud and angry parents so it's good to stay on their right side! Lots of speaking exercises in a friendly, informal environment should do the trick.
Vietnamese schoolchildren are heavily disciplined at school, and are worked incredibly hard by their parents. Because of this, kids are generally well-behaved, although they are prone to try their luck with Western teachers, who they know will not beat them like their schoolteachers might.
A note on this – NEVER hit a child in Vietnam. Local teachers and parents might, but it is not seen as the job of a Western teacher. If you raise your hand to a child, you may well see yourself out of a job.
If you work in public schools here, you may have a Vietnamese Teaching Assistant (TA) who supposedly deals with discipline matters in class. However, as with all kids, it's important to establish the ground rules from lesson one – or you may struggle to keep respect in the classroom. Be firm but calm at all times, and avoid shouting as much as possible. In Vietnamese culture, shouting is seen as losing control.
Adults are generally well behaved in class, although you may have some problems with older students. People here show great respect for age, so they might be slightly hostile to young teachers at first.
'Saving face' is very important here. This means people do not like to be embarrassed in front of others. For this reason, it's important not to single out pupils for discipline unless really necessary.
2.13 Teaching Assistants (TA's):
As mentioned above, you may find yourself working together with a TA if you teach in public schools. These are Vietnamese English teachers, who translate for the class where necessary. Usually, though, the role of a TA is quite limited, and you are expected to take control of the vast majority of the lesson. It is important to get on well with your TAs, as you may be with them for quite some time!
2.14 Private schools vs. Public Schools:
Teaching in public schools is often quite lucrative and exciting, although it can involve lots of travel, large class sizes and inconsistent classes. The joy of teaching in public schools is that you get to interact with Vietnamese children from all socio-economic backgrounds. Private school pupils tend to be from pretty well-off groups in society.
On the other hand, private school classes are usually smaller, and pupils are often better behaved. In private schools, you are usually expected to teach the same group throughout their course, which means you really get to see them improve.
Teaching work in universities is highly sought after and lucrative. A degree and CELTA will be expected at the very least, with previous experience often preferred. If you want to teach adults in Vietnam this is a good area to aim for – but don't expect to get your break right away.
Many teachers come to Vietnam without health insurance. Do not be one of them. Many larger schools cover part or all of your in-patient health insurance although most teachers are not so lucky. Even if you are insured, beware of policy wording. 'In-patient' means you will only be covered if you are admitted to hospital overnight. A quick trip to a western doctor for something non-life threatening could end up costing you thousands of dollars in fees.
It's worth shopping around for decent health insurance. Asia is not the place to take silly risks.
If you are sick, always call your employer as soon as possible so they can find suitable cover. Most schools hate cancelling classes so make sure you are as helpful as you can be.
If you are off work for more than 3 consecutive days, many schools will ask to see a doctor's certificate.
Larger employers sometimes provide paid sick leave for their full-time employers, but this is increasingly rare.
3.0 Money:
Vietnam Dong (VND) is the official currency of Vietnam, although prices are often quoted in American dollars and these are usually accepted for larger purchases. VND is only legal tender in Vietnam, so you cannot buy it before you arrive. It's best to come prepared with lots of US Dollars in cash, or traveller's cheques.
There are plenty of cash machines in Vietnam, although don't count on them in rural areas. Generally machines accept Western credit and debit cards, at a price. This can quickly add up, as your bank at home will often have its own charges too. Foreign cardholders can only withdraw 2,000,000 VND (under $100) a time, although there is no limit on the number of times you can do this.
If you are working for an above-board, law-abiding employer, you will be paid monthly, in VND, into a Vietnamese bank account. If your school does not help you open an account it is very easy to go into a bank and open your own. Most branches here now have English-speaking staff.
If you are working illegally, you will often be paid in cash.
The Vietnamese Government makes it tough to send money out of the country. This is understandable, but also slightly annoying if you're paying off debts or travelling abroad. Banks will not convert Vietnam Dong to Dollars due to Government restrictions, unless you can prove you are leaving the country. Many jewellery shops and some hotels here will change currency, at a fairly reasonable rate.
4.0 Living in Vietnam:
4.1 Where should I live?
That all depends on what you want. The two main teaching locations in Vietnam are Hanoi, the capital city in the north, or Ho Chi Minh City in the south. There are other jobs dotted across the country, some in rural areas and others in small cities. Do your research on the area you choose to make sure it suits your lifestyle.
• 4.2 The North/South Divide:
Northern Vietnam is generally more conservative than the south. Communism is more evident here, and people are generally less used to foreigners. The architecture and history are rich in the north, and there are many beautiful places to visit, although some argue the Vietnamese people are more welcoming in the south.
Climate is a big consideration here too. Northern Vietnam has four seasons, getting very hot and humid in the summer (July to September) and pretty cold in winter (December to February). High humidity means you really feel that cold, too. Spring and autumn are very pleasant seasons in the north.
Southern Vietnam has a tropical climate. It is very hot and humid all year round, with temperatures only varying by three degrees Celsius. Do not underestimate the strain of living in this kind of climate, which can be quite exhausting at times.
Tropical monsoons hit the north and south from May to October, and the centre from September to January. Wherever you are, you will get wet eventually!
Unlike in some Asian countries, teachers here are expected to sort out their own accommodation. However, this is not a difficult task, with new housing popping up all over Vietnam's cities. Westerners in Vietnam pay a lot more than locals for their accommodation, but it's still relatively cheap compared to teacher's salaries. Expect to pay anything from $150 a month plus bills for a small room in a house, to $2,000 a month for a penthouse apartment. I pay $200 a month in a suburb of Hanoi – I have a nice room in a big house, with my own private bathroom and a balcony all to myself.
If you need help finding a property, here is a good place to start: newhanoian.xemxi.com
Hundreds of rooms and properties are posted here every day – just select your region in the drop-down menu on the left.
4.4 Bills:
These are generally very cheap, although beware of landlords paying bills on your behalf. Many have been known to up the rates substantially. If you pay direct, water and electricity is very reasonable (I pay around $15 a month for my share). Try not to overuse your air conditioning though – this will quickly send your electricity bills through the roof.
Internet connections are fairly cheap here too, and generally reliable. Be prepared for the odd night of failed connections though.
Vietnam uses 220V electricity – US style flat pins in the south and round pins in the north. Standard Asian adaptors will work across the country. The current is a little inconsistent, so you might want to invest in a surge protector for using expensive electronics.
SIM cards here are very cheap and easy to top up. Local calls and text messages cost next to nothing, and internet packages are pretty reasonable too. I even use my phone here for international calls – a 20 minute call to a UK landline costs less than $3.
If you want to bring a phone to Vietnam, make sure you get it unlocked first. It also pays to check it's compatible with international networks – some of the cheaper phones are not.
4.7 Learning the Language:
More than 80% of people in Vietnam speak Vietnamese (or Kinh). It can seem a bit daunting at first, but it is well worth the effort of learning the language. Many English teachers only learn the basics, and in the cities this is all you need to survive. But if you really want to experience Vietnam, get involved and get learning! Local people appreciate it so much when you try, and outside tourist areas a little language can go a long way.
Vietnamese language teachers are abundant and pretty cheap – expect to pay around $10 an hour for a private class.
5.0 Food:
Vietnamese cuisine has a reputation for being among the best in the world. Dishes are generally based around rice or noodles although the food here varies a lot from region to region. Expect bright colours, fresh ingredients, lots of seafood, meat and vegetables. Vietnamese restaurants are often very affordable and welcoming.
Street food is quite literally that – served to you on the side of the road, where you sit on plastic stools and eat with chopsticks. This is a fantastic – and very cheap – way of experiencing local food. It is possible to be a vegetarian in Vietnam but it is difficult to find veggie-friendly street food.
In larger cities, there are a surprising number of shops and restaurants serving Western food. You can literally find anything you want here – if you're willing to pay the price. Western comforts are usually reasonably priced in restaurants, although don't expect them to be exactly the same as back home. In shops you'll have to fork out big for those Heinz baked beans, or that jar of marmite. Other imports like cheese and wine are usually pretty pricey too.
As Vietnam becomes more diverse and cosmopolitan, restaurants and shops are popping up all over to keep up with demand. There are amazing and cheap Indian restaurants here, as well as good Thai, Moroccan and Japanese joints. In Hanoi, you can even eat Ukrainian if you so desire.
6.0 Going Out: Pubs and Clubs:
There are many ways to spend your free time in Vietnam. You can go to a 'bia hoi' and drink cheap beer with the locals (for less than $0.30 a glass!) or sip cocktails in western hideaways. Vietnamese cafes and bars often set up shop on the side of the road, where you can sit on tiny plastic stools, drink iced tea and eat sunflower seeds amid the chaos.
Western drinking holes and clubs are becoming more common as the expat and tourist population grows. Here prices are higher, although still much cheaper than in the west. In these places you will often find an interesting mix of backpackers, expats and well-off Vietnamese customers.
Nightlife in Ho Chi Minh City is reputably much better than in Hanoi. Northern restrictions mean most bars and clubs have to close at midnight (although many keep going until the police show up) whereas several in the south can stay open all night long.
7.0 Transport:
There are 80 million people in Vietnam, you'll see a lot of them on the roads come rush hour. Traffic here is famously chaotic, lawless and erratic. In recent years, the Government has made motorcycle helmets compulsory, and traffic lights have started popping up sporadically across the country. Most drivers see these as optional though, so don't feel too safe when the lights turn green. First experiences on Vietnamese roads can be pretty terrifying – and the roads are incredibly dangerous – but it's not as bad as initial impressions suggest. Drivers follow a form of organised chaos which takes some adjustment from the western way.
Motorbikes are by far the preferred form of transport, although cars are getting more popular among Vietnam's growing upper class. Public transport is cheap and nasty in the cities, and used by many for long trips across Vietnam. Most expats here either buy or rent a motorbike, or travel by taxi or xe om (motorbike taxi).
By western standards, these are incredibly cheap. Taxis are usually a quick and easy way to get around, although be sure to watch the meter. Many drivers are very honest and kind, although some do like to fiddle with their distance measurements and take you on slightly imaginative routes. Generally though, expect to pay just over $0.50 per kilometre.
Xe oms (or motorbike taxis) are an even cheaper way to travel in cities, as long as you know how to bargain. A short trip around the city should cost no more than $1.50, with the added bonus that you'll go straight to your destination – just make sure you agree your price before you get on that bike.
Always be aware that, while xe oms are a very popular form of transport in Vietnam, they are often just men with bikes – they work for no-one and are answerable to no-one. Again, while most xe om drivers are honest people trying to earn a living, there have been reports of occasional muggings and sexual assaults by drivers. Always be cautious, especially when travelling at night.
There are nearly 20 million motorbikes and scooters in Vietnam, and they play a large part in life here. Many expats rent or buy a motorbike when they feel comfortable on the roads – but take your time. Driving is incredibly dangerous here and, no matter how careful you are, you are always taking a risk on the road.
The Vietnamese Government does not recognise International Driving Permits, and driving licences are famously difficult to get here. Because of this, many ex-pats in Vietnam are breaking the law every day. This means they could get into trouble with police (although this is rare) and makes health insurance invalid. If you crash in Vietnam, you might be landed with a multi-thousand dollar medical bill. If you hurt someone else, you could be checking into jail.
One way to get around this is to get a small bike or scooter, with a 50cc engine or below. You are not required to have a licence to drive these bikes, so it could be a sensible option.
Cars are a pretty new addition to Vietnamese life. Currently only the very rich can afford them, as import taxes are phenomenal. However, every day more and more shiny new models are crowding the streets. If you have the money to buy a car in Vietnam, maybe you don't need to do much teaching while you're here!
Buses in the cities are very cheap, quite unreliable, and very dirty. Many expats use them for longer distance journeys but they're not a particularly pleasant form of inner-city travel.
A train line runs all the way up the coast of Vietnam, making it a handy way to get around. Do not use this option if you're short of time though, as trains here can be painfully slow. A trip from Hanoi to Ho Chi Minh City can take 36 hours.
There are small airports scattered around Vietnam, and relatively cheap flights are available. Expect a flight from Hanoi to Ho Chi Minh City to take just under two hours.
8.0 Safety:
Vietnam is one of the safest countries in Asia, although there is always a risk and crime rates are on the rise here. Take good care of your possessions and beware of pickpockets on the streets. Try to stay with friends after dark and avoid late night motorbike taxi rides.
Never ever buy or take illegal drugs in Vietnam. If you are caught the penalties will be severe – anything from a hefty fine to life in prison. Enough said.
Stay away from Vietnamese police as much as possible. If you are robbed, they might be convinced to fill out a form for your insurance company. Apart from this, keep a wide distance to avoid trouble.
Corruption is rife in Vietnam, and the police are no exception. On the roads, they generally make their money by charging people for various offences. It's currently quite unlikely to be pulled over if you are white – most police cannot speak English so they often leave you alone. However, it does happen. If you are pulled over, be very polite and pay whatever charges the police deem necessary. Vietnamese jails do not sound fun.
9.0 Useful numbers;
Below are some key contacts – keep them safe, they may come in useful.
10.0 Good Luck!
So you've made the decision to come and work in Vietnam. Now all you need to do is pack your bags, get your jabs and get on that plane. Make sure you stay in touch and let us know your experiences along the way. We'll see you in Vietnam!
Thank you for using ESL Teacher Recruitment. We hope you have found this Vietnam guide useful and that you enjoy teaching here.
Produced by Alexander Fielding
© Copyright licensed to ESL Teacher Recruitment 2015